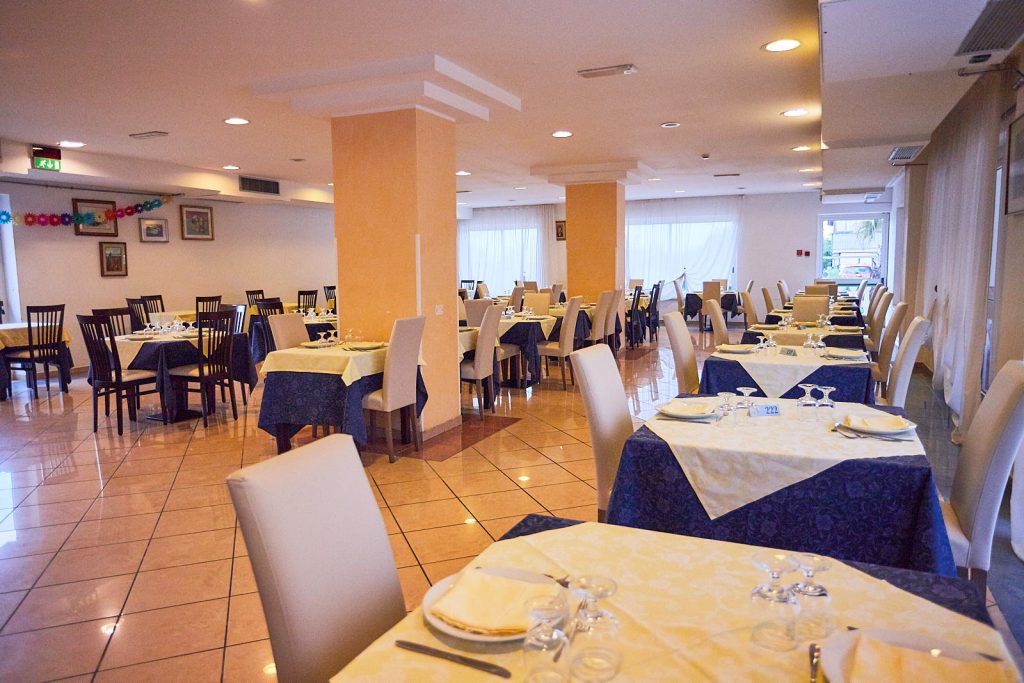 The Restaurant
Hotel Rivadoro offers a typical cuisine, cared for with dedication and attention to the quality and authenticity of food; typical specialties, fish every day, buffet of fresh seasonal vegetables, our kitchen will please you !
The catering service is carried out in our beautiful and bright restaurant where.
Breakfast, lunch and dinner are served directly at the table.
From the morning we will be able to sell you with a hearty breakfast in the room or in the garden, caressed by the rays of the hot summer sun or sheltered in the shade.
Weekly lunches and dinners with regional meat and fish specialties (specialties such as Abruzzo timballo, mixed fried and ascolana olives, Sambenedettese fish broth, fried fish, etc…). Air-conditioned restaurant !
Breakfast, from 08.00 to 09.30 with homemade tarts and donuts, espresso and cappuccino prepared at the bar, juices, croissants, yoghurt, musli, biscuits etc…!
Lunch from 12.30 pm, and Dinner from 7.30 pm, with 2 menus of your choice and menu variations and children, with side dishes of fresh and cooked seasonal vegetables !
CHILDREN'S menu taken care of to satisfy the palate of small guests.: vegetable broth, dry pasta, cotolettin, chips, etc….